Prolapsed Hemorrhoids Photos

N.B.  WARNING !

Hemorrhoids Photos

BEFORE SCROLLING DOWN
NO UNDER AGE ALLOWED

These prolapsed hemoroids photos are GRAPHIC and very revolting and offensive to some people, therefore not suitable to all viewers, especially not for sensitive viewers or under age.
There are different degrees of prolapsed hemorrhoids, beginning from  the first  degree, which is just where you pop back up with your finger the hemorrhoids cases to the more severe cases.
This is where the hemorrhoids stay permanently out, and you cannot push them back in. Then they deteriorate and bleed further, to a stage where the pain is just scrutiating.

The cases of prolapsed hemorrhoids shown here below are of very severe cases.
The next step for  the people below with these hemorrhoids would be surgery.
Alternatively you could try reading my hemorrhoids E-Book, where many people have managed avoiding surgery and cured their hemorrhoids permanently. One living proof of this is, myself the writer, and that is why I am so confident of the fact.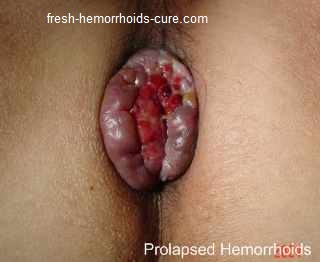 This case is very similar to the top one, very severe prolapsed hemorrhoids. Literally it is part of the intestine that is hanging out of the rectum.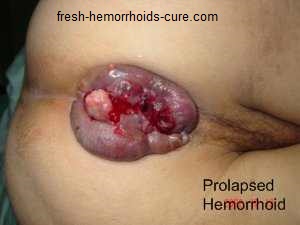 Both prolapsed hemorrhoid pictures were donated by Barry Hsu.
The next photo is of an early stage of Prolapsed Hemorrhoids. This means that the patient is still able to push this hemorrhoid back in the anus with the finger. However, as you can see the infection has already started, and it will get out of control very quickly if nothing is done about it very soon.

This picture was kindly donated to me by a hemorrhoid sufferer who read my book, and I would like to take this opportunity to officially thank her very much.
Unfortunately she does not want her name mentioned here, and I respect that.

This site is approved by


Return from Prolapsed Hemorrhoids Photos to Home Page

Return to Internal Hemorrhoids