Different Hemorrhoid
Pictures To Look At

The following hemorrhoid pictures were kindly donated to me, in order for me to show you what hemorrhoids look like. I take this opportunity to thank the people that donated these photos to me.

This certainly makes my job much easier to show you a picture rather than explaining in words what hemorrhoids look like.
As the saying goes a picture can paint a thousand words, and that is very much the case here.

 PLEASE NOTE THAT FOR SENSITIVE VIEWERS, THESE PHOTOS ARE VERY GRAPHIC AND OFFENSIVE, ESPECIALLY THE SECOND ONE.
PLEASE TAKE NOTE BEFORE SCROLLING DOWN
GRAPHIC  PHOTOS

The first picture of hemorrhoids to look at here below a simple case of internal hemorrhoids.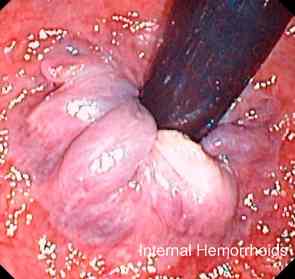 This next picture is a person with a very complex case of hemorrhoids. Reminds me a bit of myself several years ago.
Now the first thing I must point out is that the person that supplied me with this picture of hemorrhoids, has had no contact with the patient.
He therefore could not tell me what type of hemorrhoids this patient has.
Only with a proper (touch) examination can one tell what type of hemorrhoids these are.
Therefore the two protruding grapes, arrow A. If they felt hard and firm, these would be thrombosed external hemorrhoids.
If they were soft and you could with your finger push them back up the anus, they would be an early stage of prolapsed internal hemorrhoids.
If they were soft and you could not push them back up the anus, they would simply be an external hemorrhoid.
Arrow B are two skin tags.
Arrow X is an external hemorrhoid, because the grape is slightly on the side of the anus center.
N.B. The next page has pictures of hemorrhoids that are very graphic for some people.
This site is approved by


Return from Hemorrhoid Pictures to Home Page