Rectinol Ointment
Rectinol ointment is manufactured by Pfizer Pharmaceuticals. It is available in very few pharmacies.
It can be used for both internal hemorrhoids and external hemorrhoids.
It's uses are for the following:
* It helps to temporarily relieve all pain associated with hemorrhoids, soreness and burning on contact.
* It helps with the relief of anus itching general discomforts associated with hemorrhoids.
* It helps to temporarily shrink the hemorrhoid tissue and thus relieves with burning.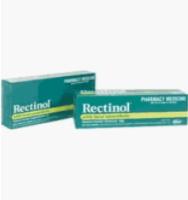 The active ingredients contained in this ointment is the following:
| | |
| --- | --- |
| Cinchocaine HCL | Local anaesthetic |
| benzocaine | Local anaesthetic |
| Zinc Oxide | Protectant |
As you can see from the formula above. The fact that it contains a protectant and a local anesthetic makes this a good formula to help with getting rid of simple cases of hemorrhoids.
While the anesthetic helps in keeping the pain under control, the hemorrhoids are protected from further irritation, and thus healing takes place.
IMPORTANT: Before use, always read the product information supplied in the box: The directions, The Warnings, The Side Effects, The Overdosing, The Contra-Indications and any other Important information supplied example being pregnant.
Please don't forget the ointment is not enough to get rid of hemorrhoids.
You need to combine this with the natural treatments.
For this product to work for you, it will depend on what type of hemorrhoids you have and also at what stage these hemorrhoids actually are at.
If you are not sure, take a look at all the other creams on the other pages. Read to see what strength they are,  to know which is the best one for your type of hemorrhoids.
If you are still confused, then fill in the form and send me an email for more help, or alternatively read my E Book for the full cures.

This site is approved by


Return from Rectinol Ointment to Home Page

Return to Hemorrhoids Cream