Tea Bags For Hemorrhoids
Here I am not talking about tea bags infused in a pot of hot water and then drink the tea. I am actually talking about using the bag directly on the hemorrhoids.
The recipe is as follows: you must put the bag in hot water for a few minutes of infusion. Take the bag out of the water and leave the bag for a couple of hours to rest.

Then place the bag directly on the hemorrhoids.
It is said that the acid that is released from the tea soothes the hemorrhoid pain and the same acid helps to shrink the hemorrhoid therefore ultimately it will cure the hemorrhoids.
There is no evidence anywhere of the above mentioned fact. In actual fact I can tell you from my personal experience that the acid released from drinking many cups of tea daily caused me to get a duodenal ulcer. This is literally a hole in the stomach lining.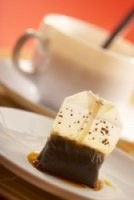 Therefore if I relate that fact, in other words the ulcer, to this situation. I think if anything, I would say that the acid from the tea would cause a perforation(hole) in the hemorrhoid. Especially because the skin around the hemorrhoid is very fragile, which makes it a perfect target for the tea to perforate a hole.
Hence making the hemorrhoid bleed and certainly deteriorating the hemorrhoid to the next degree.
I would therefore strongly recommend not to waist the tea. Rather drink the tea, but remember not too many cups a day, otherwise you could also cause yourself a duodenal ulcer.

As for the hemorrhoids. Use a proper proven natural method for relieving your hemorrhoid pain and cure for hemorrhoids, rather than waste time on old tales that have no truth in them, like the one above.

This site is approved by


Return from Tea Bags to Home Page

Return to Home Remedy