Vinegar for Hemorrhoids
The vinegar for hemorrhoids in question here is apple cider vinegar, and  to investigate whether it helps with hemorrhoid problems. Well it has been around forever and is quiet popular. To such an extent that it  has been seen in every grandmothers pantry.
They used it for many different ailments. It is still used today for many different ailments including from weight loss to head aches to digestive disorders and all the ailments in between literally. Just too many to mention here.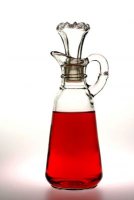 The cider is made from a certain type of apple juice. Fermented in yeast. It is then fermented a second time. The acetic acidic side of the vinegar has anti-viral, anti-bacterial and anti-fungal properties.
These are the exact properties needed to help with haemorrhoid treatment.
This was one of the products, amongst the so many others that I have tried to relieve myself from my hemorrhoids.

The result I found from using this product was that there was a slight relief from the pain, but nothing to make a big difference.
It certainly did not help me towards my hemorrhoid cure at all.
Firstly, I needed something with a more soothing effect for the amount of pain that I was in, and also something that would act immediately.
Plus more importantly, I was more after a product that would actually cure hemorrhoids.
Therefore I again, suggest to rather use the vinegar to make a nice vinaigrette for all your salads, but don't waste it on your hemorrhoids, as it just won't help in anyway.
Another fact to mention here, is that on contact, the very first reaction is that the vinegar actually burns quiet a bit on the hemorrhoid. However luckily for me, it  did not last for a very long time.

This site is approved by


Return from Vinegar For Hemorrhoids to Home Page

Return to Home Remedy