Witch Hazel For Hemorrhoids
Does witch hazel for hemorrhoids work or not, seeing that it is one of the most popular advertised herbal plants in America.
Witch hazel is also known by its Latin name of Hamamelis Virginiana. A rather smallish shrub which comes mainly from North and central American regions. The leaves and the bark are used to extract the product.
Witch Hazel is known for its anti-flammatory properties, its anti-oxidant properties, and especially very well known because of its astringent properties.
Making it ideal for hemorrhoids.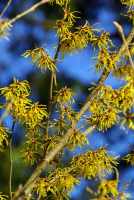 It is used for an array of medical conditions. Amongst some of which are sunburn, eczema, minor cuts, bruises, insect bites, skin acne and even as a mouth gargle.
Witch hazel is available in the form of  a cream, as a suppository and or as a gargle solution.
I have used witch hazel personally with my case of  hemorrhoids and it helped me to sooth the pain associated with hemorrhoids and also did help me with the healing process.
However at the time I didn't know what I know today and never followed some simple basic hemorrhoid treatments.
So the hemorrhoids returned soon after with a vengeance.
Also when my hemorrhoids became a little more complicated and I re-used the witch hazel cream. I found that the hazel cream for hemorrhoids just did not help me at all this time around.
I had to find an alternative stronger cream to help me relieve from the hemorrhoid pain that I was experiencing at the time.
So in conclusion, I can say that it definitely helps with a rather new or easy case of hemorrhoid attack, but unfortunately it does not help with a more difficult or severe case of hemorrhoids.
On a personal note: I keep this product in my home medical cabinet, because it is very good to cure all the other ailments, like sunburn and insect bites, etc... And so should you keep it in your cabinet, as it always comes in handy at some time or other.

This site is approved by


Return from Witch Hazel for Hemorrhoids to Home Page

Return to Hemorrhoids Herbal Remedy