Sitting on Toilet
Sitting on toilet for long periods of time, can be detrimental on your hemorrhoids.
Although a lot of us love going to the toilet to get some peace and quiet from the hustle and bustle of life. Believe me it's a good place to shut ourselves off.
Most people love reading a book on the toilet. I use to be guilty of this crime. While others just like to sit and think, day dreaming or even praying.
Many a good thought is said to come from thinking on the toilet. I don't know why.

This bad habit is definitely a NO NO NO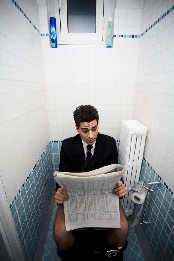 All the forces and pressures from our entire body are all directed and exerted straight through the anus when in this position.
A very vulnerable position for hemorrhoids
Therefore, this position may cause your hemorrhoids to bleed even more, or come straight out of the anus more if you are with internal hemorrhoids, or swell up more, or and generally irritate and deteriorate the hemorrhoid more.
Worst of all it may cause more pain.
The above condition, where the hemorrhoid has come straight out of the anus is known as prolapsed hemorrhoids.
Sitting on a toilet must be done for one purpose and one purpose only, and that is to evacuate, and nothing else.

Now once you have followed all my toilet procedures. You will find a few minutes, not more than five is all you need to evacuate.
Once you have finished evacuating. It is very important to get off the toilet immediately. Don't linger. Don't waste time.
Rather go up in the attic or down in the cellar to shut yourself off from reality, and if you don't have one or the other, go in the garage or the garden shed, but definitely not on the toilet.

This site is approved by



Return from Sitting on Toilet to Home Page

Return to What Causes Hemorrhoids