Post Op Hemorrhoid Picture
The following is a hemorrhoid picture that was taken after the patient has undergone the surgery.

N.B. BEFORE SCROLLING  WARNING PICTURES ARE GRAPHIC
Be warned these pictures are very graphic and vulgar for sensitive viewers and definitely not for under age viewers, so please use your own judgement before scrolling down further

This procedure is better known in the medical world as hemorrhoidectomy.
You can still see all the stitches in place as the patient is still on the operating table when the picture was taken.
This operation was performed on a difficult case of prolapsed hemorrhoids.
Just looking at this picture, I cringe thinking how much PAIN will this person go through when the anesthetic wares off.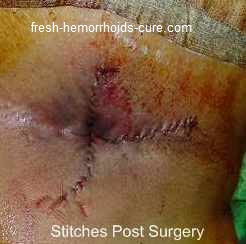 The next picture is of the same patient a couple of weeks later, showing how the stitches have fallen out and the area is healing reasonably well.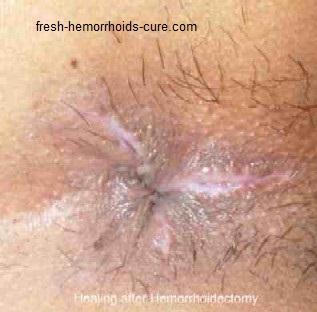 The last picture shows another case of prolapsed hemorrhoids. This time the procedure used was the stapling method.
Better known in the medical fraternity as PPH which stands for Procedure for Prolapsed Hemorrhoids.
This picture was also taken in the operating rooms straight after the procedure was done.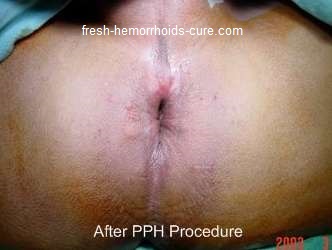 Notice with this type of stapling surgery. You cannot see any external staples.  All the stapling is done internally up the anus canal. But the PAIN is still there, although it is less visible in this picture than the top one.
I am very lucky to have got these pictures to show you, and I would like to make a special mention of this fact to show my appreciation to the below  named surgeon.
Believe me pictures like this are very hard to get!

All of the above pictures were kindly supplied to me and donated by Barry Hsu.
This site is approved by


 Return from Post Op Hemorrhoid picture to Home Page