Pictures of Hemorrhoids
The following pictures of hemorrhoids shows the before and after surgery pictures.
The first pair of hemorrhoid photos show a very severe case of prolapsed hemorrhoids.
As you can see from the photo, it is so severe, that basically the lower part of the intestine is literally out. There is severe bleeding, and it  is also severely infected.
The PAIN is just UNBEARABLE and INDESCRIBABLE when you are at this stage of a prolapsed hemorrhoid.

The second photo in this first set of photos, was taken just after having had PPH surgery.



N.B.


PLEASE BE WARNED BEFORE SCROLLING DOWN VERY GRAPHIC, DISTURBING AND OFFENSIVE PICTURES FOR SENSITIVE VIEWERS, DEFINITELY NOT FOR EVERYBODY AND NOT SUITED FOR UNDER AGE

The following pictures may be offensive and or graphic for certain people to look at.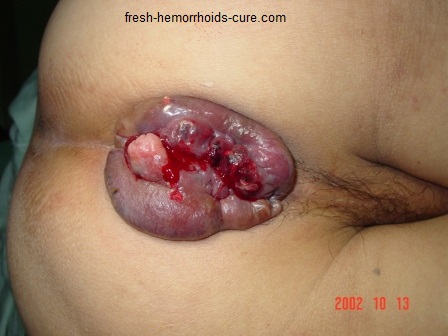 The next pair of photos is again about a very severe case of prolapsed hemorrhoids.
By looking at this photo, it looks like this prolapsed hemorrhoid is not as bad as the top one, but the PAIN associated must still be EXCRUCIATING, and it is a very hard hemorrhoid to cure.

The other difference with the first set of photos, is that this time the second photo is after having had a hemorrhoidectomy surgery.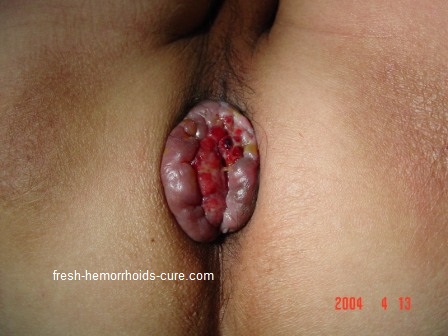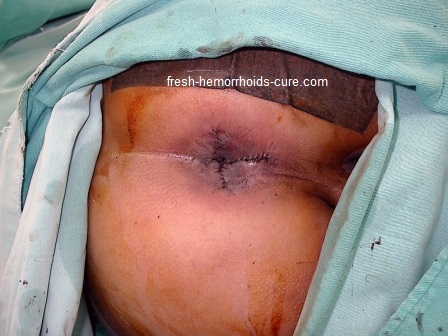 The next below picture is a few weeks after the hemorrhoidectomy surgery, and it shows how the stitches have begun to heal.
But what the picture can't show and tell you, is how much PAIN and SUFFERING this person has gone through, before with their deteriorated prolapsed hemorrhoid, and sadly also after having this type of surgery.

The SADDEST part of all , is that after all this, there is a 98% chance of the hemorrhoid returning, because the source of the cause has not been fixed.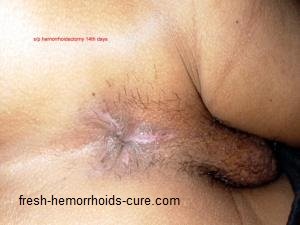 The above pictures were kindly donated to me by Barry Hsu.
I would really like to officially thank Barry for these pictures, as it has helped me so much to show what hemorrhoids really look like.

This site is approved by


Return from Pictures of Hemorrhoids to Home Page

Return to Hemorrhoid Pictures